Details
Zhengzhou Taicheng machinery have 10 years experience,our brick machine have exported to more than 50 countries,like india, Pakistan and so on.Waiting for your visit our factory.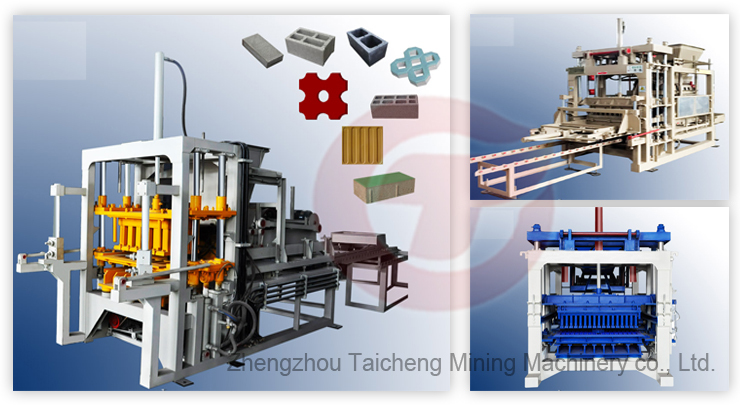 This brick making machine is Full automatic with extreme durability & most economical cost.
Using all kinds of construction waste material, cinder, flyash and a small amount of cement as raw material, this equipment can produce various bricks/blocks including dock linkage blocks, road curb bricks, sod bricks, hydraulic block, shallow blocks, perforated bricks, and standard bricks etc.
Abundant raw materials,lowest capital investment and extremely convenient.
simple and compact structure,convenient operation,easy installation and maintenance, few diligent, high production, little investment, fast return etc.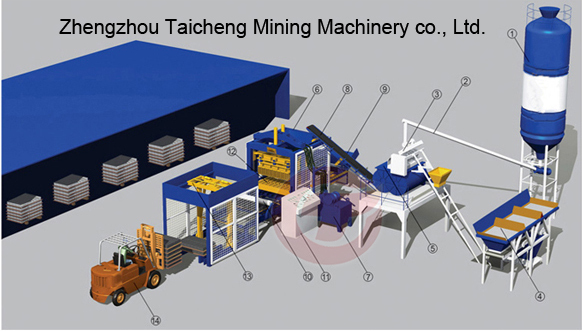 1.Simple structure, highly specialized, high stability, the main brick produce governmental brick, s
tep road brick, square brick, grass brick, etc.
2.Tow strong variable frequency motor and start pulling me excited at the moment to speed,
vibration force sufficient, while not easy to burn motor.
3.Compression molding vibration- to produce finished products with high compressive strength,
the internal structure more dense.
4.Automatic feeder, automatic fabric-Double fabric box design, the fabric is more uniform
appearance of finished bricks to Guangyan angular, elegant appearance.
5.Manual hydraulic system- hydraulic structure is simple and common components for easy
6.Manual power distribution cabinet- up operation is very simple and practical.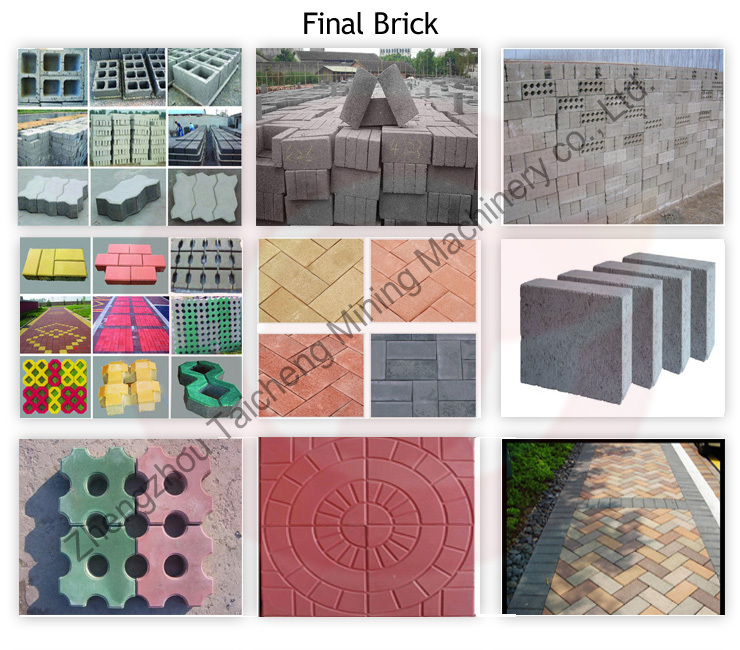 Technical Parameter :
Type

Pcs/mould

Capacity

(8 hours)

Molding cycle(s)

Power (kw)

Dimension(mm)

Weight

(t)

Pallet size

QT3-20

24

23040~34560

20~30

17

3500*1450*2450

1.8

680*540*20 (mm)

QT4-20

28

26880~40320

20~30

21

3700*1800*2450

4

950*550*20 (mm)

QT5-20

32

30720~46080

20~30

25

3900*1600*2550

5.5

1100*56*20 (mm)

QT6-15

36

51840~69120

15~20

48

4400*1800*2550

6

900*850825 (mm)

QT8-15

42

60480~80640

15~20

52

4600*1900*2500

7

960*850*25 (mm)

QT10-15

48

69120~92160

15~20

56

4800*1800*2600

8

1100*85*30 (mm)
---