Details
Taicheng VSI artificial sand making machine (Sand-Making Machine) is one of the most advanced sand-making equipments in the world and is further improved after introducing German Bamaque technology. Taicheng VSI artificial sand making machine is especially suitable for sand making and stone reshaping and is generally used in third crushing. It is a perfect combination of unique rotor structure design, wear-resisting technology, crushing speed optimization and hydraulic design.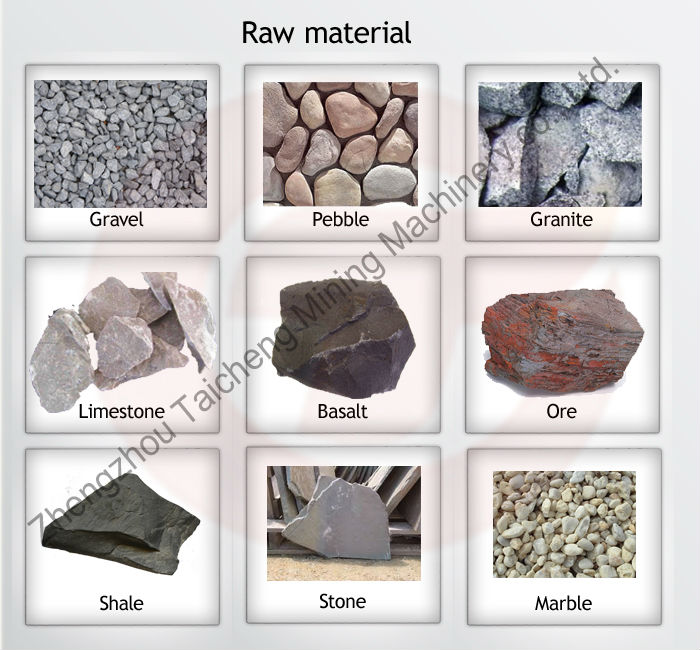 1.It is used for producing building aggregate,concrete,aggregate for road surface and roadbed,asphalt concrete and cement concrete.
2.It is also used for sand making and shaping in the field of engineering such as water conservancy,hydroelectric power,high-class highway,railway,bridage and municipal works.
3.It is used in fine crushing of ming industry such as building materials,metallurgy,chemical engineer,ming, anti-fire material,cement ect.
4. sand making machinery is used for producing glass raw material and quartz sand ect.
Material falls down to impellor cavity. Under great centrifugal force, it hits material that coming downwards. After hitting each other, they force a vortex between impellor and shell, and hit each other several times, finally smaller stone comes out, and goes to vibrating screen. Satisfactory material is transported by conveyor belt. However overlarge material will go back to sand maker to be recrushed. Output sizes can be made according to customer's requirement.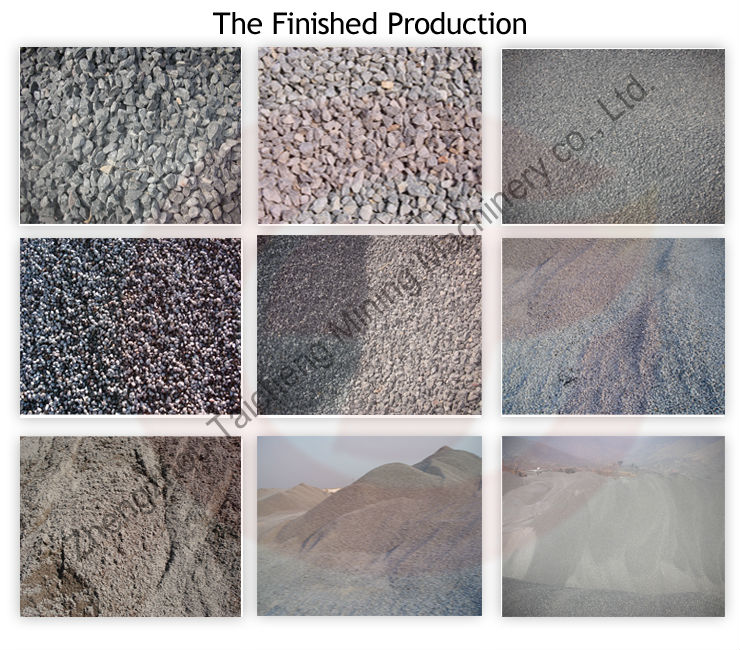 1.Large processing capacity and perfect productivity of ideal output: 50-500 t/h, output increases by 30% compared with the traditional equipment using same power, and VSI artificial sand making machine works more stably.
2.Low consumption of wearing parts- excellently designed impact angle in crushing chamber reduces the frication between wearing parts and materials, consequently operation cost can be reduced by 30%.
3.Fine shape of final product- good cubic shape, fineness modulus can be adjusted, especially suitable for artificial sand making and stone reshaping. It is proved that the reshaping achievement increases by 30% comparing to other traditional equipments.
4.Hydraulic drive system is convenient to maintain, hydraulic cover opening device makes it more convenient and easier to replace the wearing parts in crushing cavity and decreases the downtime, thus saves time and energy.
5.Automatic monitoring equipment is safe and reliable: Vibrating and alarming device will warn and turn off the crusher to protect it.
6.Thin oil lubrication and automatic maintenance: thin oil lubricating station from German makes sure the supply of the oil with double oil pumps. The machine can stop working without oil or hydraulic pressure. Heating and cooling oil device assures the bearing's lubrication is at its best. The bearing over-heat protective function makes the main bearing keep in a constant temperature and have a long service life.
7.Simple installation and easy operation: it is light in weight and has diverse means to install. It is very easy to install, maintain, use and repair. When the concrete purpose is set, it just needs tiny adjustments to make full use of it.
8.Multi-purpose machine, flexible application: unique crushing structure together with wide ranges of crushing chambers can make stone hits stone and stone hits iron simultaneously. If we have different purposes, we just need to adjust a few parts; we could use it for artificial sand, sand reshaping etc.
9.International quality guarantee: it adopts German advanced technology, advanced riveting technology, abrasive blasting, rust removal and paint in automobile making, which greatly improves inner and exterior quality. Moreover, core parts adopt world famous brand (bearing uses the high-accuracy class TIMKEN antifriction bearing) with fewer errors.
10.Environmental protection: the automatic air circulatory system makes lower noise, less dust. Besides, VSI vertical shaft impact crusher can be installed with kinds of dust-cleaning devices.
11.High capacity (up to 500 tph). A denser particle population in the chamber will give more effective reduction and improved shape.
12.Possibility to re-crush unsold small materials (2-6 mm ; 4-8 mm,…) and single fraction round materials (16-32mm,…).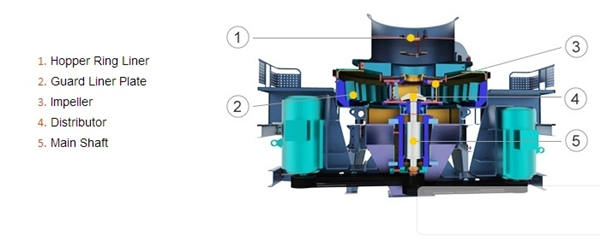 | | | | | | |
| --- | --- | --- | --- | --- | --- |
| Model | VSI 7611 | VSI 8518 | VSI 9526 | VSI 1140 | VSI 1145 |
| Max. feeding size(mm) | 30-35 | 35-40 | 40-45 | 45-50 | 45-50 |
| Motor power(KW) | 110-150 | 180-220 | 264-320 | 400-440 | 440-520 |
| Rotation speed (r/min) | 1700-1890 | 1520-1690 | 1360-1510 | 1180-1310 | 1180-1280 |
| Cascade Feeding Capacity(t/h) | 120-180 | 200-260 | 300-380 | 450-520 | 490-600 |
| Center feeding Capacity(t/h) | 60-90 | 100-130 | 150-190 | 220-260 | 250-380 |
Any change of technical data shall not be advised additionally.
---