Details
Introduction
A long-term technology accumulation and modern processing equipment Seiko production ensure that Our company's new third-generation Sand Making Machine leads position in the industry.
The typical use is to adapt the current system of artificial sand and gravel industry. Currently, the practice of heavy gravel third generation machine overall performance is superior to the rod mill Sand machine, VSI type, cone crusher and hammer crusher and soft hammer crusher.
The device is suitable for artificial gravel pits, highway, rail, water conservancy project, construction, cement, refractories, metallurgy, glass sand and other industries. It is the preferred equipment for the production of high quality gravel.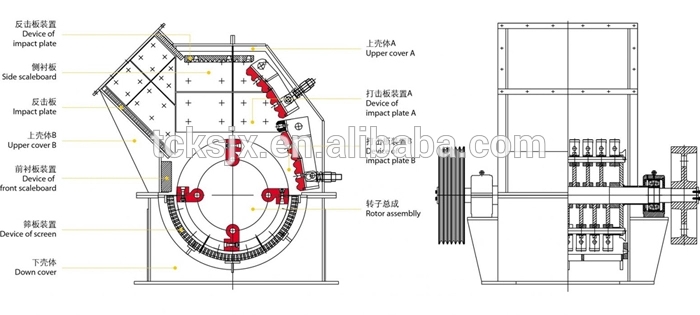 Features:
1, small particle size, grain type uniform, large production capacity;
2, simplifying the process from three-stage crushing into two-stage;
3, long life hammer, Supporting small electrical power,simple structure, easy maintenance, smooth running characteristics.
Applications:
A),river pebbles, rocks (limestone, granite, basalt, diabase, andesite, etc.), ore tailings, artificial sand stone chips.
B),construction aggregates, highway road fabric, cushion material, asphalt concrete and cement concrete aggregate production.
C), water conservancy and hydropower engineering, highway, railway, passenger lines, bridges, airport runways, municipal engineering, sand and stone production for high-rise building.
D), crushing materials before grinding process in mining industry, building materials, metallurgy, chemical, refractories, cement, abrasive material crushing and other industries.
E),high abrasion and secondary crushing disintegration, thermal power, in addition to sulfur metallurgical industry, steel slag, construction waste crushing and other environmental projects.
F),glass, quartz sand and other high purity materials.

Advantages:
1,simple and reasonable structure,low-cost ;
2,unique spindle bearing installation and advanced design, the machine has the characteristics of heavy-duty and high-speed rotation.
3, fine crushing and coarse grinding;
4 high reliability, tight security devices to ensure that equipment and personal safety;
5 smooth operation, low noise, high crushing efficiency;
6, little affected by the material moisture content, moisture content can reach about 8%;
7,all wearing parts are made of high quality wear-resistant materials,long service life. A small amount of wear parts made of special hard wear-resistant material, small size, light weight, ease of replacement parts .
8,vortex chamber internal flow from circulation, little dust pollution.
9, materials in impeller and whirl from the crushing cavity significantly reduce the cost of wear parts and maintenance work. During production process, stone materials can form a protective bottom, body without wear and durability.
Diverse installation, removable installation.
cubic products, bulk density, small iron contamination. It can be used as stone shaping machine.
Technical Parameter:
Fine Crusher

Width of rotor ×(mm)

Width of rotor ×(mm)

Width of rotor ×(mm)

Width of rotor ×(mm)

Width of rotor ×(mm)

Width of rotor ×(mm)

Width of rotor ×(mm)

Width of rotor ×(mm)

Width of rotor ×(mm)

Type

800×400

800×600

800×800

1010×1010

1200

1200

1400

1600

1800

×1000

×1200

×1400

×1600

×1800

Inlet size (mm)

400×185

500×250

550×330

1000×350

1200

1200

1500

1600

1800

×400

×450

×500

×550

×800

Feed size (mm)

<120

<180

<180

<180

<180

<180

<190

<190

<190

Fineness (mm)

<5

<5

<5

<5

<5

<5

<5

<5

<5

Width of discharge gap

5-20

5-20

5-20

5-20

5-20

5-20

5-20

5-20

5-20

Cement clinker (t/h)

20-30

35-40

35-45

45-55

80-110

100-110

100-150

170-210

250-270

Limestone (t/h)

35-45

45-55

55-65

65-75

50-100

90-100

100-150

190-250

280-310

Power equipped (kw)

37-45

45-55

45-55

55-75

100-110

100-132

160

250

315
---