Details
Introduction
This drying machine is widely used for the heating and dehumidification of raw materials and products in pharmaceutical, chemical, foodstuff, light and heavy industries. Eapecially for the fruit and vegetable food processings. Suit for factory,restaurant,school ,farm and so on.
Application
1. Our this series stainless steel multi-function drying machine can dry all kinds of materials,such as meat,vegetables,fruits,spice,sea cucumber,herbs,
onions,gingers,tea leaves etc.
2. Used for drying Chinese herbal pieces, dissolved medicines, powder,crude drug,Drug packing bottle,pigment,dyestuff,dehydrated vegetables ,food, plastic resin, paper,
leather,wool, electrical apparatus element ,salts,catalyst etc.
3.Suit for factory,restaurant,school ,farm and so on.
4.suitable for all kinds of food material,seafood drying such as seaweed, dried fish, shrimp, squid, fish fillet, sea cucumber, abalone,also apply to the bamboo shoot, mushroom, spices,garlic, tea leaf, flowers, sophora flower bud, dried fruits, vegetables, mushrooms, sweet potato, corn, peas, beans, coconut, nuts, dried black fungus and other agricultural and sideline products, as well as the honeysuckle, chrysanthemum, rhubarb, red sage root, ginseng and other Chinese herbal medicine drying.

Working Principle
This dryer was upgraded and regenerated for several times and has reached advanced level both at home and all over the world. After being filtered by the primary filter fixed at the air inlet, the clean air will be blown into the drying chamber and flow towards the electrical heater. Then the heated air will be evenly distributed to each layer of trays. The hot air penetrates through the raw material via the holes punched at the tray bottom to evaporate the moisture from the raw material. Some of the moisture will be exhausted through the exhaust vent and new fresh air will be brought in to supplement the circulation air.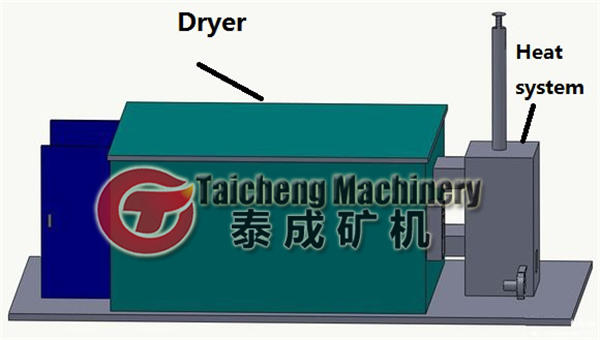 Charcteristics
1. New designed energy saving dryer with two times waste heat recovery.Low working noise ,stable working condition,automatic temperature control system,easy to install and maintain.
2.automatic temperature control system,easy to install and maintain.
3. The drying oven can be made of carbon steel, stainless steel according to the required.
4. The final water content can be <1%.
5. Most of hot air circles in the sealed oven,high heating efficiency and energy-saving.
6. Having forced ventilation function and equipped with adjustable wind separator plates, high drying evenness.
7.Dryer machine adopts special design, making the heating efficiency 3-7% increase compared to the current 35-45%, the highest thermal efficiency can reach 50%.
8.During drying, the material does not craze, does not distortions, non-discoloring, never degenerate, non-oxidize, drying completely, with good rehydration, keep nutrient content;
9. Automatic control system and computer control system for your choice.
10. Having forced ventilation function and equipped with adjustable plates, drying evenly.
11.Temperature allowed with20°C-200°C according to your requirements. Stable operation without being influenced by weather
12. You can freely choose coal,wood,
electricity
,gas as the heating source.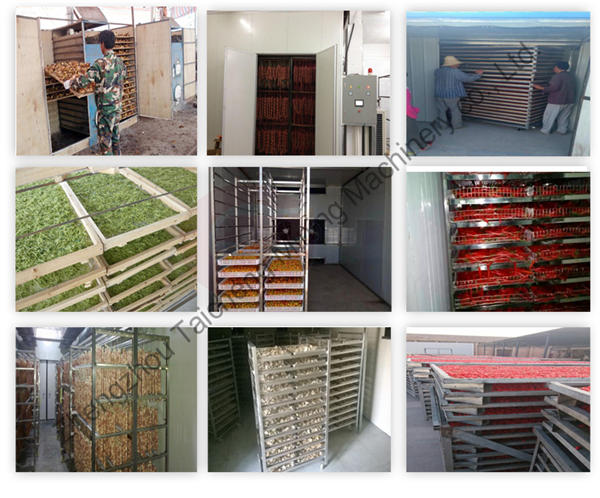 Technical Parameter:
Model
Number of Trolley
Capacity per batch
Power
(kw)
TCBD-2
2
400-600kg
1.75
TCBD-4
4
800-1200kg
2.25
TCBD-6
6
1200-1800kg
3.16
TCBD-8
8
1600-2400kg
3.56
TCBD-10
10
2000-3000kg
4.18
TCBD-12
12
3000-4000kg
4.55
TCBD-24
24
5000-7000kg
7.58
Any change of technical data shall not be advised additionally.
---