Details
Introduction
The silica sand rotary drum dryer / drying machine/tu of Taicheng cmpany have exported to EU . With the CE certificate .
If your coal moisture is 20-40% , Final moisture can meet your requirement .(1% ,as clients' requirement )Capacity : can 1-70t/h according to your moisture . Our equipment can meet your various demands
Application
We can produce the sand dryer ,river sand dryer ,sea sand dryer ,yellow sand dryer ,silica sand dryer and so on .
For the sand material , there are two kinds of dryer for choice .
One Kind called:--single rotary dryer ( pls look at the images ,)
Other kind called : three cylinder dryer


Working Principle
The raw material plate is arranged conveniently to allow adjustable angle positions. The material to be dried is inserted to the rotary cylinder through the raw material plate. Hot air flows within the cylinder causing the separation of water from the material by converting it into vapor which is discharged into the atmosphere. At this point, the material becomes dry.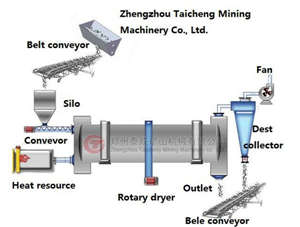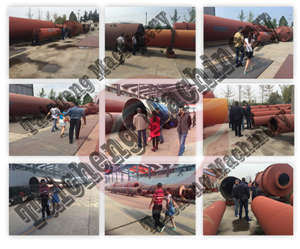 Structure
The silica sand rotary drum dryer / drying machine/tu consists of rotary body, throwing flitch, transmission device, supporting device ,sealing ring, heat source, beater device, belt loading machine, feeding machine, rotary roller, belt discharger, draft fan, discharger, and switch board.
Charcteristics
:
1. Three-cylinder dryer can take full advantage of excess heat, reduce heat loss and increase the heat exchange area, making the unit evaporation intensity of the dryer greatly improved, thereby effectively improving the heat energy utilization rate, reducing the energy consumption and making the heat efficiency of three-cylinder dryer improved in a wider range. Compared with single-cylinder dryer with the same efficiency, its heat efficiency is improved about 50% and energy consumption saving doubles.
2. Because the cylinder length of the three-cylinder dryer is one third of single-cylinder dryer and the base area saves about 60% than the single-cylinder dryer, the base investment is reduced correspondingly.
3. The dryer drives by adopting the friction between supporting roller and belting leather, and the transmission power is low, thereby reducing the noises when the equipment working.
4. The cylinder sealing system of the dryer adopts micro-contact technology, with better sealing effect and reducing the dust pollution.
5. The cylinder and raising material board of the dryer both adopt alloy steel plates which is double service life of common steel plates.
6. Three-cylinder dryer can use coal, oil, gas as fuel, can dry different shapes of material, such as lump, granular, powder and various materials.
Parameter:
/
Φ2.0×3.0m
Φ2.0×4.0m
Φ2.5×5m
Φ2.8×6m
Φ3.2×8m
Φ3.6×8m
Diameter(m)
2
2
2.5
2.8
3.2
3.6
Length(m)
3
4
5
6
8
8
Rotor speed(r/min)
4-10
4-10
4-10
4-10
4-10
4-10
Input moisture(%)
≤25
≤25
≤25
≤25
≤25
≤25
Final moisture (%)
≤1
≤1
≤1
≤1
≤1
≤1
Air charge temperature(°C)
700-800
700-800
700-800
700-800
700-800
700-800
Capacity(t/h)
3-5
6-10
12-18
20-30
30-40
45-60
Main Power(kw)
7.5
11
15
22
37
55
Any change of technical data shall not be advised additionally.
---