Details
Our metal crusher used in scrap processing industry, is a kind of equipment used to crush and break waste metals. It is a very hot-selling machine in the field of recycling waste metals. As long as your raw materials are something related to metal, our can process them with no problems. The final crushed metal products, are very easy and convenient to transport. Our machine is an ideal choice of clients doing recycling business! so as to reduce the transportation cost, improve the iron furnace and smelting speed.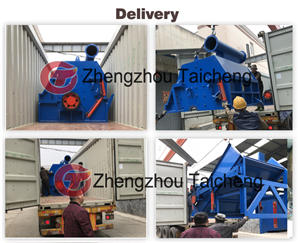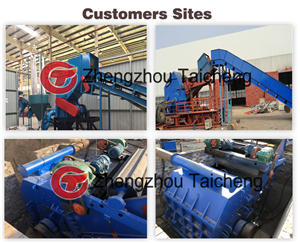 Applications
Scrap metal crusher are mainly used in crushing of waste household appliances such as refrigerators, air conditioners, washing machines, TV, VCD, computer case, computer circuit boards and so on. Waste home appliance crusher can be employed for the broken of press blocks of waste home appliance, thin material, sheet metal, packing, scrap iron, scrap metal, paint bucket, petrol can, bicycle, etc.

Working principle
The metal crusher machine mainly rely on impact of material to broken. The material enter into the crusher, suffered the impact and broken of the high speed rotary hammer, broken material obtained energy from hammer kinetic, with high speed to the frame body flap and at the same time material hit each other, broken by many times. The materials less than the sieving gap discharge from the ance. Individual larger stores impact again by the hammer, grinding, extrusion and broken. Thus required size products are forced out.To avoid the wall wear and deformation, the cabinet interior are set with protection liners.

The crusher is using motor to drive wind wheel extrusion. With high-speed high-torque motor driving, broken objects in the crushing cavity may be fully effective crushed until they meet the specifications of the detritus. After Broken material through air maneuver sorting system, the metal and nonmetal will be left. Also the whole system is equipped with a dust removal device to minimize dust pollution generated in the production process hazards. he equipment adopts hob type(concentration and power) and hammer, and make the material broken into granule or flake. Iron and aluminum can be separated ,and plastic aluminum also can be separated.
Charcteristics
1 The machine slow down the motor drive.Low noisy,non-pollution, operation simply, maintain convenient.
2 strong structure and dense stiffeners to ensure the equipment chassis is strong.
3 The scrap metal crusher is delivered with conveyor feeding equipment.
4 The scrap crusher has full range of control buttons. It needs as long as one person to control the device in entire processing procedure.
5 The equipment body is accompanied by a security identification and security labels to ensure safe use.
6 The equipment can produce a much higher percentage of group ball.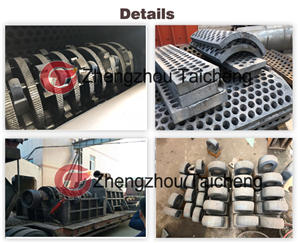 | | | | | | | | |
| --- | --- | --- | --- | --- | --- | --- | --- |
| Model | 400 | 600 | 800 | 1000 | 1300 | 1600 | 2000 |
| Power(KW) | 18.5-22 | 22-30 | 37-45 | 55-75 | 75-90 | 110-132 | 220 |
| Capacity(kg/h) | 200-300 | 500-700 | 950-1100 | 1500-2000 | 2000-3000 | 4000-6000 | 8000-12000 |
| Dimension(m) | 2.2*1.4*1.85 | 2.4*1.6*2.3 | 2.6*1.8*2.6 | 2.8*1.9*3 | 3.3*2*3.5 | 3.8*2.3*4 | 4*3.2*4.2 |
---